EFFICIENCT HYDRAULIC CONTROLS
---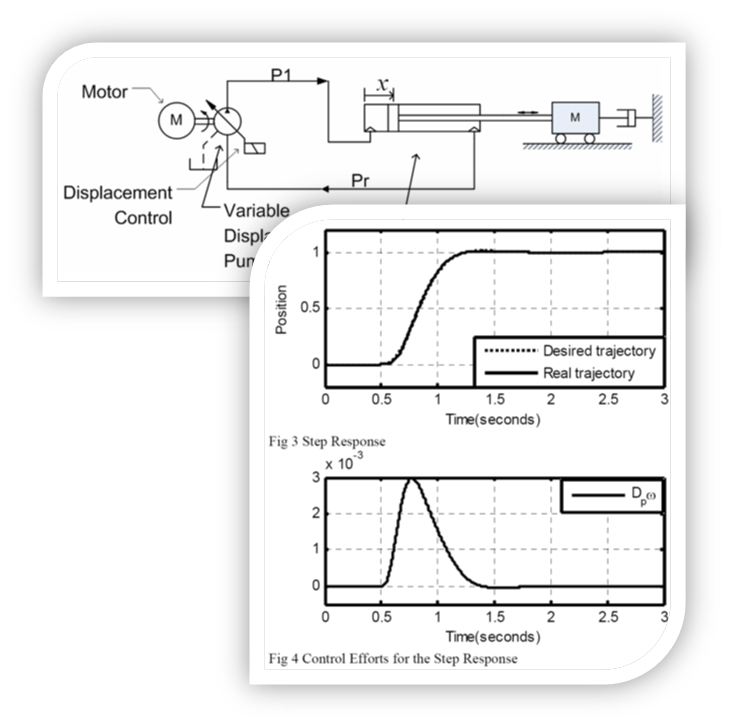 Project Objectives
New energy saving fluid power architectures--such as variable displacement pump controlled actuators--promise increased energy efficiency; however, the physical parameters required to implement acceptable control of these systems are often uncertain. We seek a robust method of adapting our control law to these uncertain parameters. The method must also be suitable for real-world applications.
Project Approach and Methods
Singular perturbation theory is used to simplify the system models in order to aide in developing the control algorithms and for proving the stability of our methods.
(1) Tracking error decays to zero exponentially. (2) The system is robust to variations in the bulk modulus and cylinder volume changes. (3) High-bandwidth control efforts are not required.
This research develops a new robot control framework, which is more practical and easily applied for engineering practice than previous approaches. The scheme shows high robustness when the measurement suffers from noise. Several other aspects of this work, such as guaranteed response, efficient adaptation approach, along with the related proofs, are also of interest in their own right.
Researchers Involved
Longke Wang –Ph.D. Candidate
Publications
Wang, L., Book, W., Huggins, J., "A Control Approach with Application to Variable Displacement Pumps". Proceedings of IEEE/ASME International Conference on Advanced Intelligent Mechatronics (AIM2009), Singapore (2009).
Wang, L., Book, W., Huggins, J., "Adaptive Robust Control of Hydraulic Robots with Recursive Least Squares". Proceedings of ASME Dynamic Systems and Controls Conference (DSCC2009), Hollywood, CA (2009).
Back to the Top
---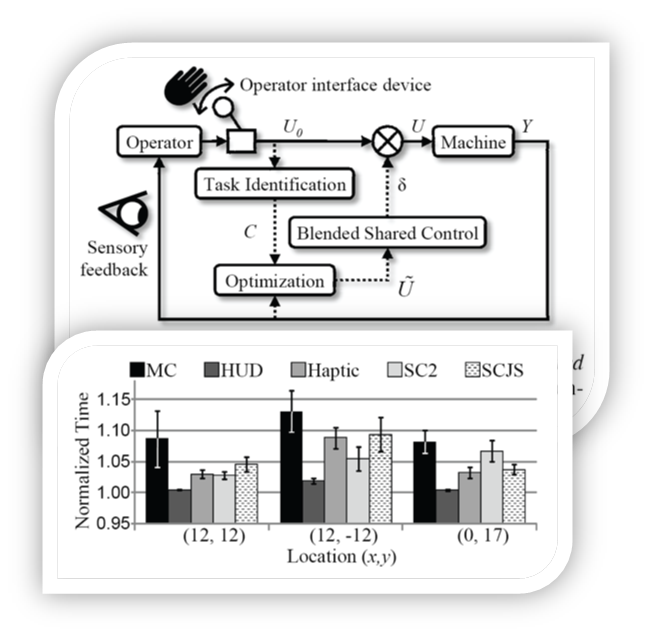 Project Objectives
Despite the increased capabilities of autonomous control, many machines--from hydraulic excavators to mobile wheelchairs--are manually controlled by a human operator. In practice, the operator assumes responsibility for completing a given task at maximum utility, for example in minimum time or with least energy consumption. However, even the optimal control solutions of simple nonlinear systems may be non-intuitive for the human operator responsible for providing the control input. To bolster the ability of the operator to achieve some degree of optimality, an electronic agent may be given authority to share control with the operator.

Thus we research a method of combining an operator's input command with a command derived by a semi-autonomous robot agent, and seek to show that this new system with shared control is superior to a traditional manually controlled system.
Project Approach and Methods
The testbed to demonstrate these research ideas is a large hydraulic excavator. Here, the operator and a robot agent share control of the machine. Therefore, the robot agent must be able to infer the task which the operator is performing and then calculate the 'optimal' way to accomplish this task. Finally (and while considering the local convexity of the cost function), the two commands are 'blended' to produce the command finally sent to the excavator.
These ideas have been experimentally validated for a simple single-input system, and are now being extended to multi-input systems with more complicated dynamics.
Researchers Involved
Aaron Enes –Ph.D. Candidate
Publications
Enes, A., Book, W., "Blended Shared Control of Zermelo's Navigation Problem". Proceedings of Robotics and Automation (RA2009), Boston, MA (2009). Submitted
Back to the Top
---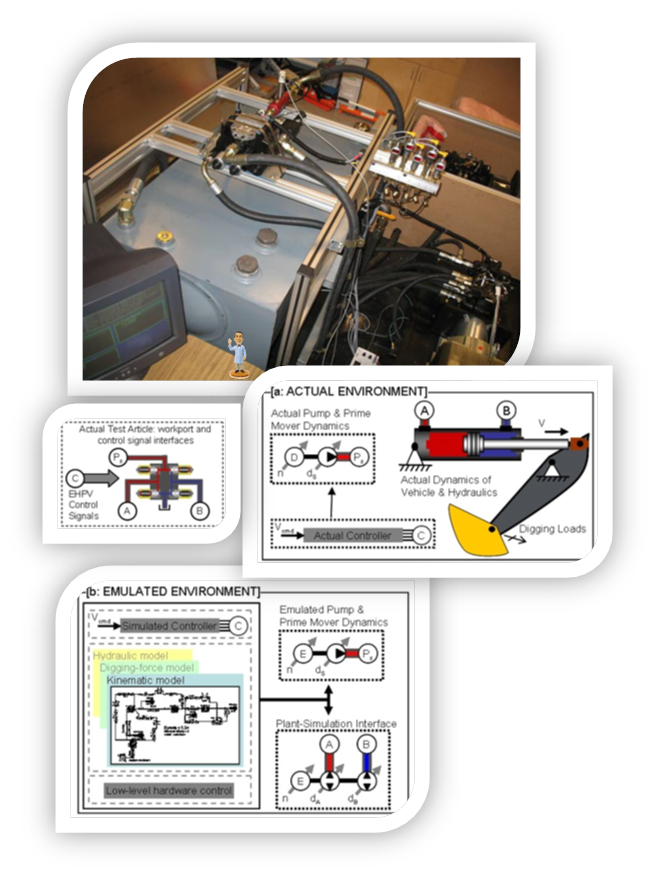 Project Objectives
Often, the design process for control algorithms used in components such as hydraulic valves, pumps, or entire systems requires many iterations. Early in the design process quick, low-fidelity models are sufficient, while in the later stages it is necessary to do costly, full-scale testing with actual hardware. In intermediate stages a compromise is necessary.
Hydraulic hardware-in-the-loop simulation allows repeatable experiments to be performed with the actual prototype hardware installed into an emulated environment. This requires a system capable of emulating the loads of a hydraulic excavator.
Project Approach and Methods
We designed a high-power, high-flow system capable of emulating many hydraulic loads present during a typical digging cycle. This system is capable of delivering up to 120 HP. Furthermore, it can be coupled with a remote operator interface station to perform experiments with the actual machine hardware and the actual machine operator in the control loop.
Researchers Involved
Longke Wang – Ph.D. Candidate
Aaron Enes – Ph.D. Candidate
J.D. Huggins – Research Engineer
Publications
Elton, M., Enes, A., and Book, W., "A Virtual Reality Operator Interface Station with Hydraulic HIL Simulation for Prototyping Excavator Control Systems". Proceedings of IEEE/ASME International Conference on Advanced Intelligent Mechatronics (AIM2009), Singapore (2009).
Enes, A., Book, W., "A Hardware-in-the-loop Simulation Testbed For Emulating Hydraulic Loads Representing The Complete Dig Cycle Of A Construction Machine", Proc. of IMECE2008: International Mechanical Engineering Congress and Exposition, Boston, MA (2008).
Back to the Top
---